QVATTVOR Symmetrical Balanced Toroidal Step-Up Transformer
fonolab. MC step-up transformer has been carefully designed and manufactured in the Czech Republic to satisfy the highest interrogates for musicality.
Today, when balanced circuits have become the de facto standard for high-end audio design, we are proud to present our vision of transformer amplification for MC cartridges.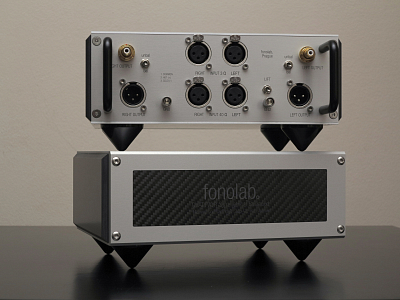 Matched pair of Tamura permalloy toroidal core transformers is used for each channel in fully balanced topology.
Transformers which has both ultra-wide band and ultra-small distortion with the possibility of connecting cartridges with an impedance of 3 and 40 Ohms.
Traditional Tamura sound in balanced design with modern shielding and damping technology brings a new level of ultra-low noise and high resolution.
QVATTVOR features:
Permalloy toroidal core transformers (specially manufactured by Tamura Corp.) is used for each channel
The custom-made aluminum/copper case equipped with highly efficient internal damping materials
Stainless-steel non-magnetic screws to minimize the influence of the magnetic distortion; thereby the clear sound has been realized
LC-OFC is used for the wiring material
High quality Neutrik XLR and Gold-plated brass RCA connectors with Teflon insulation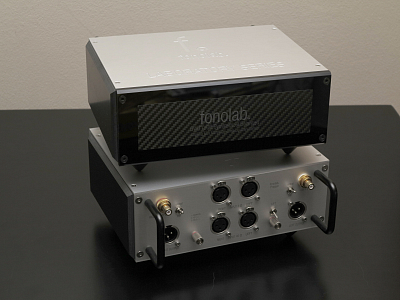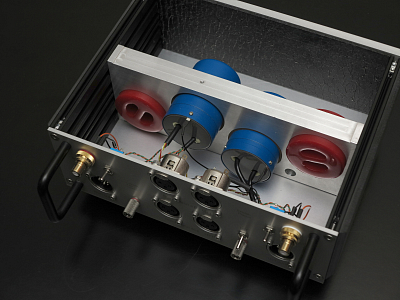 Specifications:
Input impedance: 3 / 40 Ohms
Output impedance: 4k Ohms
Frequency response: 10Hz to 100kHz (+-1.0dB)
Chanel separation: 60dB or more (20Hz-50kHz)
Ratio: 1:10 / 1:36
Phase characteristics: Within 10° (20Hz-50kHz)
Available in a Silver or Black Glossy finish front panel.
We will happily create custom color (Blue, Dark Blue or Milk White) front panel for you at no additional charge.
Please ask if you have questions.
Check availability Facebook Marketplace
Please feel free to Contact Us if you would like a specialty model to be created for you.